Take our guided tour to see how easy it is to post!
4 quick and easy steps!
Step 1. Contact Info
This information will not be shown to job seekers, but is only used by us to stay in touch with you.

Step 2. Job Description
If you have chosen to buy a single job posting you will be asked to fill in the details for the job you wish to publish in this step. If you have opted for a 4 job postings pack you have to complete your registration before you can publish your first vacancy.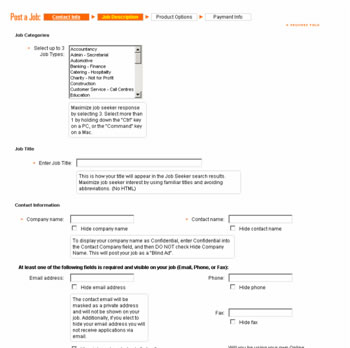 Step 3. Product Options
This page confirms what product you have chosen.

Step 4. Payment Info
After this step your account will be activated and you can start receiving job applications.